Despite the name, ginger beer doesn't contain any alcohol.
by CHANEL VARGAS (FEB 13, 2018)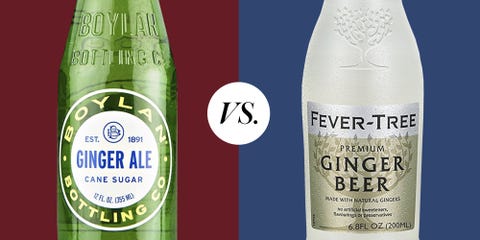 If you like having a drink with a bit of a kick, you might be a fan of ginger ale's slightly spicier cousin, ginger beer. While both are non-alcoholic soft drinks, ginger beer and ginger ale are mainly different in that ginger beer is spicier, with a more robust flavor than ginger ale. Also, while ginger ale is generally treated as a tame alternative to alcohol or soda, ginger beer's flavor makes it easy to enjoy on its own or mixed in a cocktail—like the traditional Dark n' Stormy or even a sangria.
Where is it from?

Despite it being marketed as a typically non-alcoholic drink nowadays, ginger beer's name isn't a complete misnomer. Traditional ginger beer originated in England in the mid 1800s and was a product of fermenting and brewing ginger with water and sugar, resulting in a drink with about 11 percent alcohol.
Modern ginger beer is not fermented, but is instead carbonated, making it a soft drink. This ginger beer typically contains less than .5 percent alcohol, and is not classified as an alcoholic beverage.
How is it made?

Depending on the filtering process and the manner in which it's brewed, ginger beer can either have a clear or cloudy appearance. The manner in which it's made also affects the flavor, making different brews zestier than others.
So, while ginger beer and ginger ale can be used interchangeably, it's important to remember that ginger beer does have a stronger flavor.